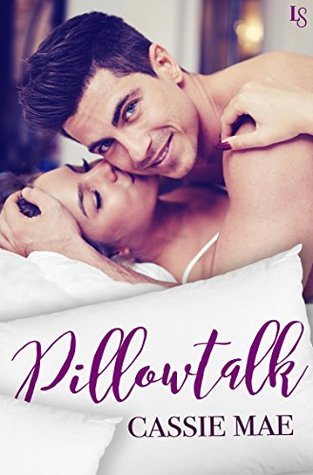 Title: Pillowtalk
Author: Cassie Mae
Rating: 3/5
Thanks to NetGallery and Random House Publishing Group (Loveswept) for giving me a chance to read this before the official release.
Kennedy Walters has had a tough year. Now she's come to the lakeside town of Lyra Valley to finally say goodbye to the memory of her first love. But while she's staying at his sister's B&B, Kennedy is shocked to find herself undeniably drawn to a handsome local heartthrob—especially since she isn't sure if she's ready to move on.





Aaron Sheppard returned to Lyra Valley because he was fed up with the big city and everything it didn't have to offer—like the beautiful, down-to-earth girl staying at the B&B. Aaron's enjoying a little flirtation until he realizes that she's Kennedy Walters, the girl who was dating his best friend. But after a power outage strands them together, Aaron and Kennedy wind up sharing some intimate conversation. And over the course of a night that neither will ever forget, they learn just how compatible they could be—if only they knew how to let go and fall into each other's arms.
I love Cassie Mae. She's by far, one of my most favorite authors in the world. I adore her young and new adult romances so much, I could reread them every single day. I love her nerdy way, and gladly, Pillowtalk contained a lot of nerdy phrases too, but apart from that, I had a really difficult time getting into the book. Her All About Love series is written for adult readers as well, but... I don't know. Maybe it's because reading adult things written by her is new to me, but I just couldn't get into Pillowtalk as much as I hoped.
The cover might make you think this is some streamy work of fiction, but it's actually not. It's more about past friendships, loss and how we deal with it. How to say goodbye. Cassie captured these themes beautifully, it was more the characters that I couldn't relate to. Mainly Kennedy. And that's probably because I never had to deal with a loss like that. I hope no one ever has to. It's hard. So, I can still understand why she acted the way she did and writing this down now makes me realize, I have been a bit harsh toward her, and it affected my rating. But that's the way it is.
I would have liked to read more about Kennedy and Chelsea. They never seemed to talk about Jared at all, probably because a conversation like that would rip open scarred wounds, I get that. But still... Whenever they were around each other, it was like something was missing. I'm glad Kennedy still talked about Jared when she was with Aaron - the guy she is falling for during the story. And yes - Cassie didn't fail to create another swoon-worthy man. Whew!
Women can be so difficult. Kennedy's no expection. Every so often, I wanted to take the urn away, make her see that holding on to the past will only cause more heartache than she's already dealing with. But that's the great thing about stories - the characters develop on their own and when they finally see the things as crystal clear as the reader does, you want to give them some kind of comfort. However, Kennedy doesn't need the reader's comfort. She's got Aaron - the reason readers are jealous at her, haha. He is like a superhero, appearing at the right times, saying the right things. Of course, he's got demons on his own, but unlike women, he knows when to cave in.
Moving on from a loss like Kennedy's is always such a tough question, especially when it comes to books. Everyone has got a different opinion on that one, but reading Kennedy and Aaron's story, you can't help but wanting them to get together. Some readers might say it's wrong. Some might say it's against what she promised Jared. And maybe what makes this book so real is that this question is always dividing the minds. Still, I liked how Cassie Mae dealt with the topic and how she created a great romance, one that seemed very real.